Shortly after merging former Prime Minister Imran Khan's Kamyab Jawan Programme into Pakistan Kamyab Programme, the Federal Government opened the registrations in several categories of Kamyab Jawan Scheme 2023. So, to know official details about this program, read this article to the end.
Furthermore, the following reading will provide comprehensive details on How to Apply for Kamyab Jawan Program Loan Scheme Online alongside its Requirements and Official Criteria for Employed and Unemployed Candidates.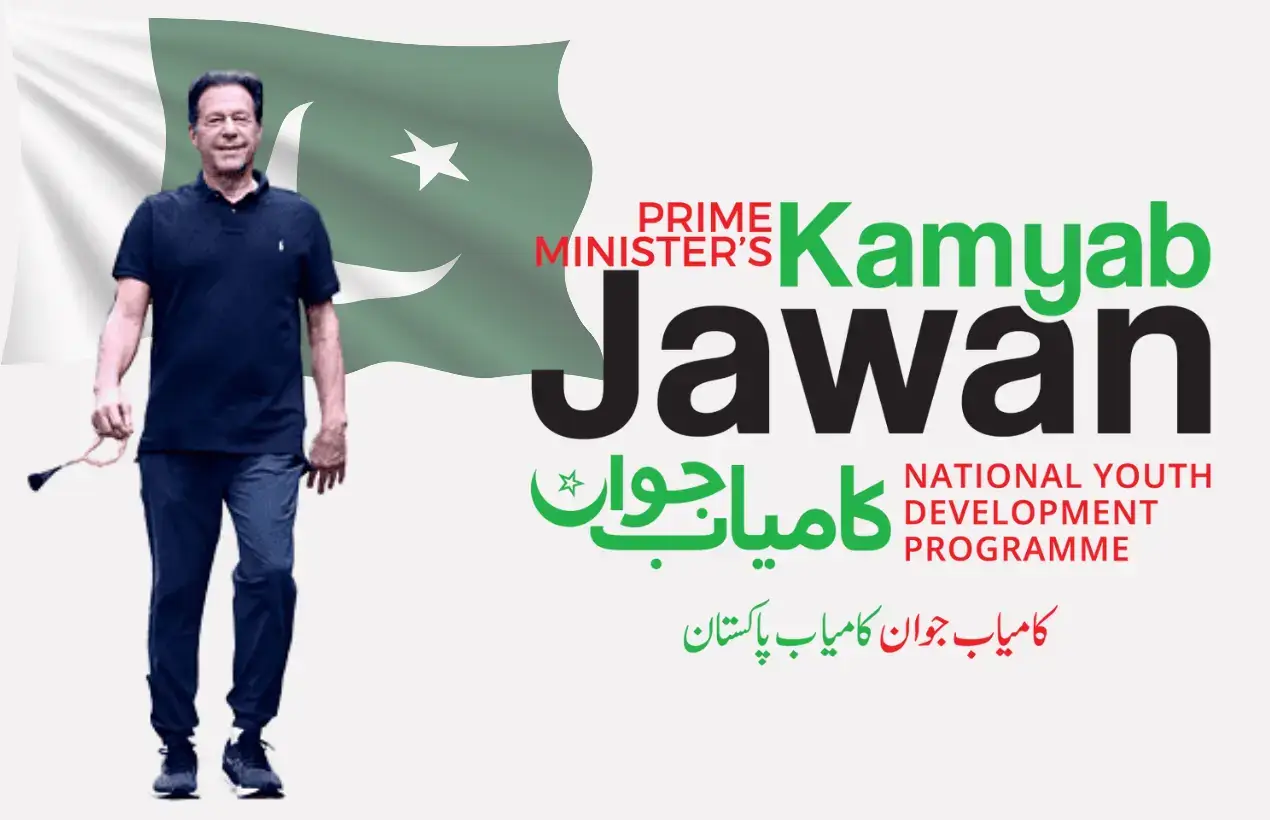 Lastly, we will discuss the Registration Methods in Kamyab Jawab Program's sub-categories, including Youth Entrepreneurship Scheme, Startup Pakistan Programme, Hunarmand Pakistan (Skills for All) Programme, Green Youth Movement, and National Internship Programme.
What is Kamyab Jawan Program – All you Need to Know
With around 55% of youth out of the total population, the biggest challenge for the Government of Pakistan has always remained facilitating them with proper education, skills, and jobs; therefore, several heads of the state initiated different Youth Development programs in the past.
Cutting a long tale short, the former PM Imran Khan launched a Flagship Support Program for the Youth in 2018, which turned out to be helpful for unemployed youngsters hence working even after the fall of Khan's regime.
The Federal Government administers and looks after the entire Kamyab Jawan Program in collaboration with the Youth Affairs Ministry. Meanwhile, the scheme wraps up a range of small programs, such as Hunarmand Pakistan, Startup Pakistan, and the Youth Entrepreneurship Scheme.
Under the Kamyab Jawab Program, the Prime Minister allocated several privileges for the goodwill of the young generation, including 170,000 Fully-Funded Scholarships, 50,000 Hi-Tech Skills Scholarships, and PKR 100 Billion for Interest-Free Loans.
While bringing plans into execution, the Federal Government started Hi-Tech Courses in well-owned universities, including the University of Lahore and NUTECH in Islamabad. The PM also approved the establishment of a National Job Portal to provide transparent jobs to the unemployed youth.
Moreover, the Youth Ministry has released a whopping budget of PKR 30 Billion for the Skill Development Program. In this program, educated youth nationwide will receive free technical and vocational training for 20 months.
Kamyab Jawan Program 2023 – Eligibility & Requirements
Even though the Kamyab Jawab Program was put on hold for a while after Imran Khan's disqualification, the newly elected Government decided to restart it because it impacts positively. However, the Federal Government made some alterations to it.
At the time of writing, the Kamyab Jawan Program 2023 comprises six Schemes, of which three are open for registration, including the Hunarmand Pakistan Programmer, StartUp Pakistan Scheme, and the Youth Entrepreneurship Program.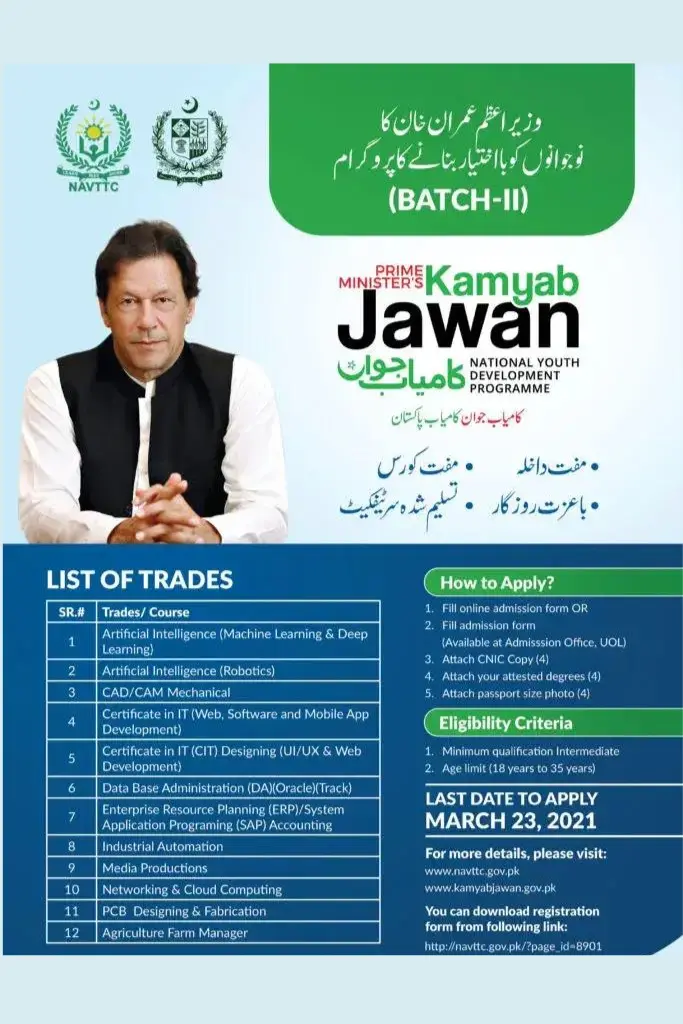 Meanwhile, registrations for the Green Youth Movement, National Internship Programme, and Youth Engagement Platform will be open later this year. Overall, all these programs aim to uplift the country's youth by providing a friendlier environment.
Detail of Kamyab Jawan Program Free Courses
| | | | |
| --- | --- | --- | --- |
| S.No | Course Name | S.No | Course Name |
| 1 | Renewable Energy Systems Design | 13 | Energy Efficiency Management |
| 2 | Product Designing By Using Solid-works & ANSYS | 14 | Applied Instrumentation and Control Automation |
| 3 | Mechatronics | 15 | Robotics & Automatic System Operator |
| 4 | Data Analytics | 16 | Social Media, Digital Marketing & SEO |
| 5 | 3D Animation with Realistic Rendering | 17 | Computer Vision |
| 6 | Artificial Intelligence | 18 | Game Development and Modeling |
| 7 | Networking and Cloud Computing Technologies | 19 | Advanced Python Programming and Application |
| 8 | Advanced Web Application Development | 20 | Certificate in IT (CIT) |
| 9 | Cyber Security and Computer | 21 | Networking and Cloud Computing Technologies |
| 10 | Amazon Virtual Assistant | 22 | Hospitality |
| 11 | Fashion and Beauty | 23 | Welding |
| 12 | Construction etc. | 24 | Internet of Things |
Hunarmand Pakistan – Component of Kamyab Jawan
As the name suggests, Hunarmand Pakistan Program aims to provide the young generation with free-of-cost training and skill development opportunities. In the initial phase, the Government will pick 500,000 participants from Pakistan and train them in 500 technical centers in different cities.
Under Skills for All programs, unemployed youngsters will learn professional skills in various fields, including 3D Printing, Block Cain, Augmented Reality, Robotics, Advanced Electronics, Cyber Crime, and Intelligent Vehicles.
Meanwhile, the entire scheme will be administered by the National Vocational and Technical Training Commission, which already has established 500 Institutes and 75 Smart Tech Labs to certify 50,000 youth within two years.
Eligibility Criteria for Hunarmand Pakistan
Like other programs, only eligible candidates will participate in Hunarmand Pakistan Trainings. The NAVTTC is authorized to accept and reject the applications of desired students depending on their provided information.
How to Apply for Hunarmand Pakistan in 2023
According to the details, you can apply for the Hunarmand Pakistan Scheme through Online and Offline Modes. If using the offline method, you must visit the nearby NAVTTC Office, fill out the application, and submit it by hand to the in charge.
StartUp Pakistan – Component of Kamyab Jawan
The StartUp Pakistan Program is another commendable part of the Kamyab Jawan Scheme. Under this initiative, the Government aims to provide entrepreneurship training to one million youth to create economic stability.
Unlike Hunarmand Pakistan, the StartUp Pakistan Program focuses on teaching the youth Business and Trading Rules; so they can start profitable ventures. Interestingly, the program includes practical classes by various Successful Businessmen of the country.
It is worth mentioning that StartUp Pakistan opens vacancies for both Youth and Private Institutes. As per the rules, from Government departments to Educational institutes, digital hubs, and private firms, any profitable or unprofitable industry can join this program.
Eligibility Criteria for StartUp Pakistan
The Federal Government, in collaboration with the Ministry of Affairs, operates the StartUp Pakistan venture. Of course, the desired participants must apply through a proper channel, and after a strict evaluation, the shortlisted candidates will start the training.
How to Apply for StartUp Pakistan in 2023
The registration of StartUp Pakistan can be done either Online or Offline, depending on participants' preferences. However, you must provide authentic information; otherwise, the Government could reject your application.
Youth Entrepreneurship Scheme – Component of Kamyab Jawan
Last is the PM's Youth Entrepreneurship Scheme, which provides youth with Interest-Free Loans for various business ventures. Youngsters from all provinces of Pakistan can apply for this scheme since the government has allocated a whopping PKR 100 Billion Budget for this project.
In this program, the Government collaborates with several Banking Organizations to provide Micro Loans without collateral. The core purpose of this scheme is to allow 25% of the youth to start their small businesses and startups.
Under the Entrepreneurs Scheme, you can get loans ranging from 10,000 to 5 Lakh, depending on your business idea. However, the loan tenure comprises eight years, and if you apply for PKR 5 Lakh, you must pay an eight percent annual markup.
Eligibility Criteria for Youth Entrepreneurship
Since the Youth Entrepreneurship Scheme deals with Cash, its eligibility standards are comparably strict to other schemes. Of course, the Government has the authority to accept or reject your applications based on your information.
How to Apply for Youth Entrepreneurship in 2023
For your information, the registration and application method for the Youth Entrepreneurship Scheme is entirely online. In the first phase, you don't need to submit any documents, but you must provide authentic information to enhance your application approval chances.
FAQs
Wrapping Up
In short, Kamyab Jawan Program is probably the Government's best initiative to uplift the youth and battle the increasing unemployment and poverty in the country. Indeed, we've tried to explore every possible aspect of this Scheme alongside its official registration methods. Nevertheless, you can contact us anytime through Official E-mail or Comment Sections in case of any ambiguity. Notably, we answer all queries and tickets within 24 hrs.